This article details the Real-time speech recognition overview explaining what each section and button does.
Note: You must have a Dragon Profile configured with ODMS for this to work please follow the guide here on configuring the Dragon NaturallySpeaking settings. Real-time Speech Recognition settings can be configured please follow the guide here.
If you want to know how to use the Real-time Speech recognition then you can follow this guide here.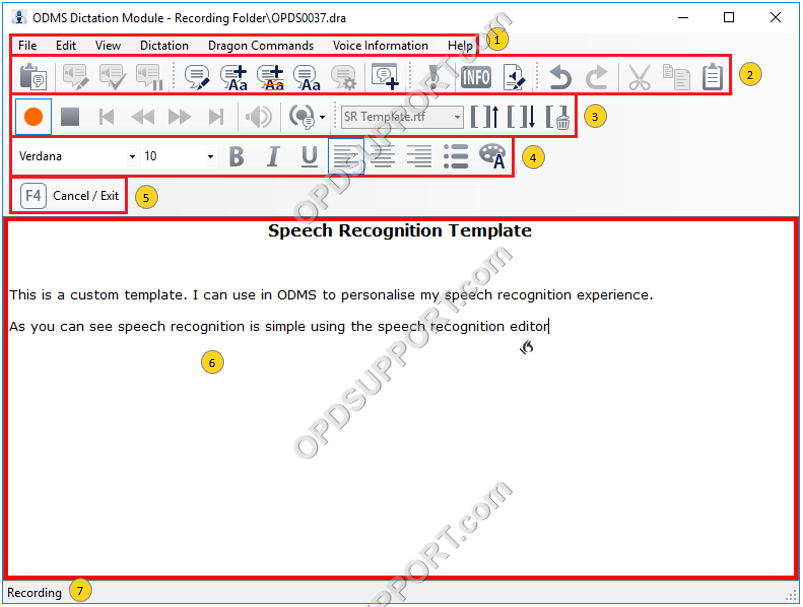 2. File Options
5. RecMic Function buttons
6. Dictated text / editor window
7. Recording Status
File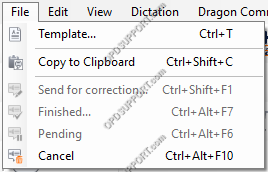 | | |
| --- | --- |
| Menu | Function |
| Template | Loads a specified template to be used. |
| Copy to Clipboard | Copies the selected word to the "Clipboard", ready to be pasted. |
| Send for correction | Saves the recording and transcribed text to be corrected later. |
| Finished | Saves the recording and exports the completed text. |
| Pending | Pends the recording so it can be continued later. |
| Cancel | Closes the window. |
Edit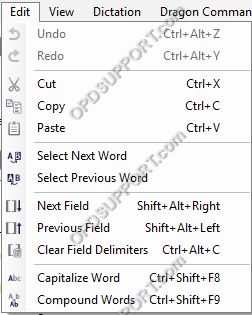 | | |
| --- | --- |
| Menu | Function |
| Undo | Undo the last operation. |
| Redo | Redo last operation. |
| Cut | Cut selected text to the clipboard ready to be pasted but does not keep the original text. |
| Copy | Copy selected text to the clipboard ready to be pasted but does keep the original text. |
| Paste | Inputs the contents of the "Clipboard" to the selected cursor position. |
| Select Next Word | Selects the next word relative to the cursor position in the text display area. |
| Select Previous Word | Selects the previous word relative to the cursor position in the text display area. |
| Next Field | Selects the next field word relative to the cursor position in the text display area. |
| Previous Field | Selects the previous field word relative to the cursor position in the text display area. |
| Clear Field Delimiters | Deletes all delimiters '[', ']' in the field. |
| Capitalize Word | Capitalizes the first letter of each sentence in the text selected in the text display area. |
| Compound Words | Deletes all the spaces between the selected words. |
View

| | |
| --- | --- |
| Menu | Function |
| Toolbar | Toggles toolbars between show and hide, specifies the buttons displayed in toolbars, etc. |
| Status bar | Toggles the status bar between show and hide. |
Dictation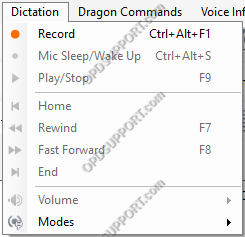 | | |
| --- | --- |
| Menu | Function |
| Record | Starts dictation recording and auto speech recognition using Dragon NaturallySpeaking. |
| Mic Sleep/Wake Up | Stops/Starts speech recognition.(Voice commands are received even when stopped.) |
| Play/Stop | Play or stop dictation recording from the cursor position in the text display area. |
| Home | Returns the cursor to the beginning of the text. |
| Rewind | Rewinds a file. |
| Fast Forward | Fast-forwards a file. |
| End | Moves the cursor to the end of the text. |
| Volume | Adjusts output volume. |
| Modes | Allows you to select Speech Recognition Mode in Dragon NaturallySpeaking. |
Dragon Commands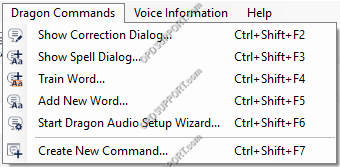 | | |
| --- | --- |
| Menu | Functions |
| Show Correction Dialog | Displays the Dragon NaturallySpeaking Correction dialog box for the selected text. |
| Show Spell Dialog | Displays the Dragon NaturallySpeaking Spell dialog box for the selected text. |
| Train Word | Displays the Dragon NaturallySpeaking Train dialog box. |
| Add New Word | Displays the Dragon NaturallySpeaking Add New Word dialog box. |
| Start Dragon Audio Setup Wizard | Starts up the Dragon NaturallySpeaking Dragon Audio Setup Wizard. |
| Create New Command | Displays the Dragon NaturallySpeaking MyCommands Editor. |
Voice Information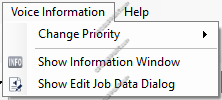 | | |
| --- | --- |
| Menu | Functions |
| Change Priority | Change the priority of the dictation file. |
| Show Information Window | Displays detailed information about a dictation file. |
| Show Edit Job Data Dialog | Displays the Edit Job Data dialog box. |
Help

| | |
| --- | --- |
| Menu | Function |
| Contents | Opens help contents |