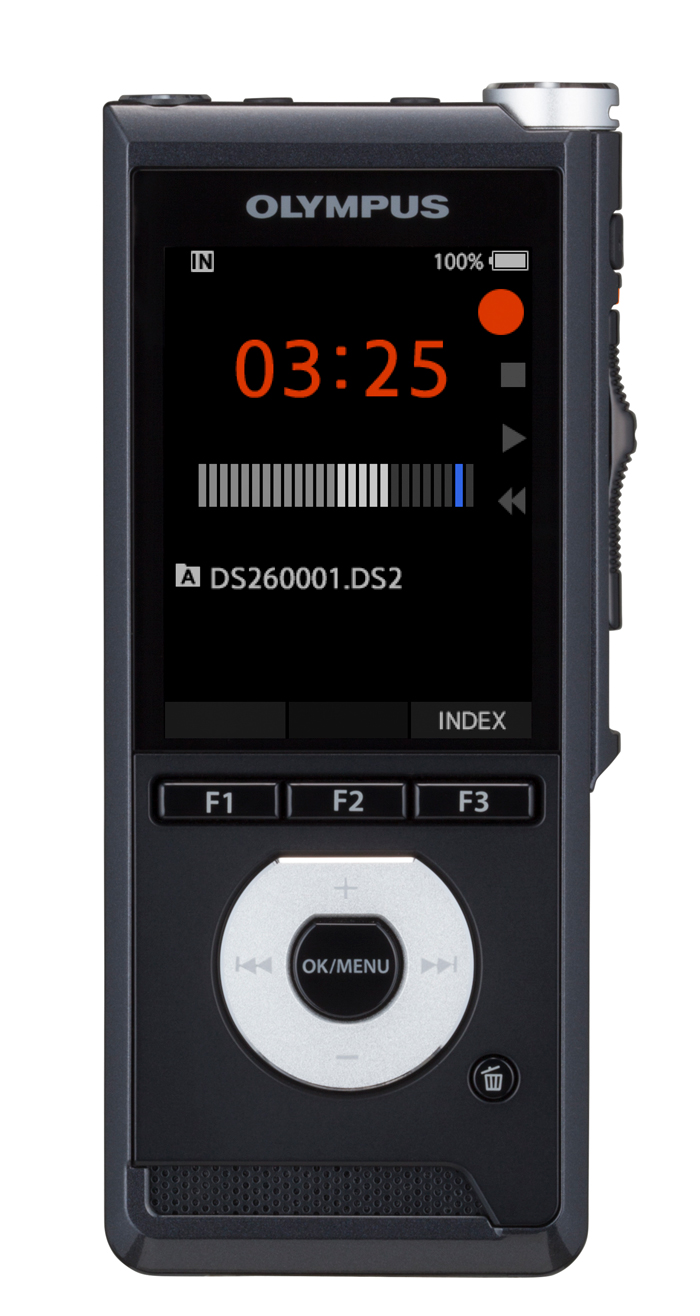 Firmware & Downloads
DS-2600 FW v1.07 (Windows)
2020-03-30
Firmware 1.07 includes the following fixes: Resolves an issue whereby playback did not start from the position it stopped.
DS-2600 FW v1.07 (Mac)
2020-03-30
Firmware 1.07 includes the following fixes: Resolves an issue whereby playback did not start from the position it stopped.
Product Documents
Select Language
Technical Specifications
Recommended Application Area
Application
Dictation
Interviews
Meetings
Speech-to-text
USB functionality
USB Functionality
USB Speed
USB Classes
USB Audio class (Full Duplex)
Storage Class (High Speed)
USB Connection Type
Display
Display Type
Resolution
Display Size
Display Backlit
Device operation
Main Switch
Programmable button
Power switch
New button
Microphone System
Omni directional
Pop Filter
Diameter
Internal microphones
Recording Modes
Recording format
DSS Pro + DSS, Linear PCM, MP3
Sampling frequency
DSS Pro
DSS
PCM
MP3
44.1kHz (Stereo) / 128kbps
44.1kHz (Mono) / 64kbps
Frequency response
DSS Pro
200 – 7000Hz (QP)
200 – 5000Hz (SP)
DSS
PCM
(Stereo / Mono) / 50 – 8000Hz
MP3
128kbps (Stereo) / 50 – 15000Hz
64kbps (Mono) / 50 – 13000Hz
Record function
Built-In Microphones
Recording Monitor
Mic Modes
Dictation: for recording dictation
Conference: Stereo + Intelligent Auto Mode
Mic Sensitivity
VCVA
Dictation features
Editing
Overwrite
Append Record
Insert*
Partial Erase*
Editing only for DSS / DSS PRO / WAV
* Insert in WAV only with DS‑9000 & DS‑2600; Partial Erase only with DSS / DSS Pro
Voice Command
Index
Playback function
Playback speed
Slow (x0.5) / Normal / Fast (x1.5)
File operation
Forward / Reverse Skip
Fast forward and rewind
Skip Playback
Data organization
Folders
Files per folder
Folder names changeable
Clock synchronization with PC
Workflow function
Author IDs
Storage Media
Internal memory
External SD/SDHC Card slot
Compatible Software
ODMS
DSS Player for Mac
Third party software
Check supported audio file formats by third party software
Interfaces Output
Max. working output
Maximum headphone output
≤ 150 mV (conforms to EN 50332‑2)
Speaker size
Speaker design
Speaker type
Earphone jack
3.5 ø mm mini‑jack, impedance 8Ω or more
Connections
Docking station connector
Microphone jack
Earphone jack
Power Supply
Power source
Battery: LI‑92B Rechargeable Lithium‑Ion battery
Battery capacity
Exchangeable
Charging time
Approx. 2h (Olympus AC Adapter)
4h (via USB)
Max. Battery Life
DSS
PCM
MP3
Power-Save
Motion Sensor
External power supply
External AC adapter
Standard voltage
Dimensions
Height
Width
Depth
Weight
Exterior
Housing colour
Housing material
LED
Environment
Temperature
0 ‑ 42°C (operation) / 5 ‑ 35°C (charging)
Languages
Menu languages
CS, DA, DE, EN, ES, FR, IT, NL, PL, SV, RU
Hardware Security
Lock single files
Operating Systems & Requirements
Windows
Macintosh
Available accessories
Docking station
Microphone
Foot-/ Hand controller
Telephone Pick-Up
Li-Ion rechargeable battery
AC Adapter
Box Contents
DS‑2600 Digital Voice Recorder
DSS Player Standard License (Mac & PC) – Dictation Module
Software to be downloaded from Olympus website
CS151 Carrying case
KP30 microUSB Cable
microSD card (internal memory)
LI‑92B Rechargeable Lithium‑Ion battery
Instruction Manual
SHOW ALL SPECIFICATIONS
Knowledge Base & FAQ
Quick Start Guide DS-9500/9000/2600
This article goes through the basics of using your mobile recorder. The images in this article may vary for each mobile recorder however the button layout and instructions are very much the same. + – Preparing your recorder Click to collapse Insert the battery Lightly press down on the battery cover release button, then open […]
Digital Slide Switch: Usage Guide
The Digital slide switch was designed to be an easy to use feature on the Olympus DS-9500, DS-9000 and DS-2600 series recorders, but here's a handy reference guide just in case.Download The Guide
Support & Repair
TECHNICAL SUPPORT
Use the link below to open a new support ticket for your product.
REPAIR SERVICE
Use the link below to start a repair service request for your product.